Renee Guckenburg, passionate to inspire a love of STEM education
Mar 04, 2019
HR Manager appointed to Deer Park Education Foundation Board of Directors
Renee Guckenburg, Human Resources Manager (HR) at Shell Deer Park, joined the Deer Park Education Foundation Board of Directors at the beginning of the 2018-2019 school year. 
Representing Shell, the role is a natural fit for Renee since part of her role is to work with leaders to develop the workforce plans for the Shell site.
"I love the work the foundation does to support STEM (science, technology, engineering and math) education. It is such a critical area for our students to experience and learn," said Renee. "Of course, for Shell, we're looking to better engage students in STEM in hopes of them pursuing a career in the petrochemical industry, but STEM education prepares students for careers that affect so many areas of our everyday lives – from the way we build light-weight vehicles, and better home insulation, to the video games our students are more familiar with playing."
Shell Deer Park has proudly sponsored the Strides for Schools Fun Run since the very first step in 1999 and is thrilled to lace up again this year to run in the 10th anniversary race. To celebrate this milestone, Shell will be DOUBLE matching the registrations for this year's event to fund additional STEM education and field trips to the San Jacinto Monument.
"The Fun Run has played a significant role in enabling students in the district, having already raised $850,000 in its nine years. The funds raised by the foundation are invested in the schools through enrichment programs and inspire a love of learning in students at all levels." said Renee. "We're very excited for our 10th annual race and hope to reach the million dollar mark."
Registration is now open:
The Strides for Schools Fun Run online registration link is: https://www.thedriven.net/cw/strides-for-schools-fun-run/
Registration: Students $15, Adults (20 & Older) $25, Adult Shirt Only $20
Each participant receives a dri-fit race shirt, race towel, bib with timing chip and 2019 finisher medal. Additional awards will be given to top three finishers in each age group and both top male and female overall finisher in the race.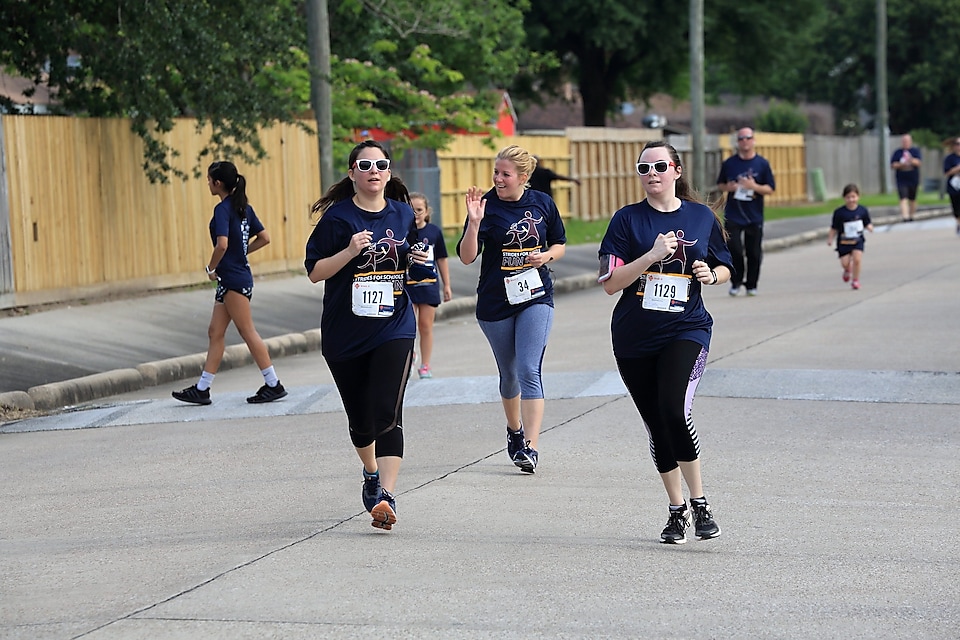 Deer Park runners head for the finish line at one of the Fun Run's earlier races.
More in Deer Park Manufacturing Site
Shell Deer Park invests in the latest technology and makes improvements in operating procedures and training programs so it reduces its footprint and achieves continuous improvement in environmental performance.
At Deer Park Chemicals, we power progress by providing the building blocks that make everyday products and are the solutions for our future, all from the historic birthplace of Texas.